Restless Legs Syndrome Market: Geographies covered, Treatment, Symptoms and Drugs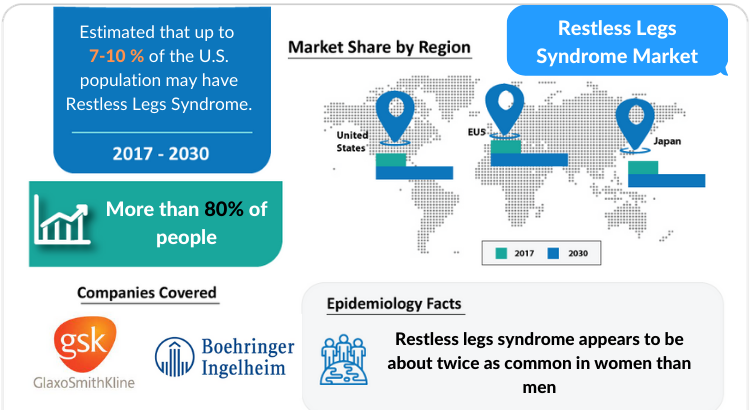 "Restless Legs Syndrome Market" report has been added to DelveInsight
The Restless Legs Syndrome market report provides an edge while developing business strategies, by understanding trends shaping and driving the global Restless Legs Syndrome market. A detailed review of the historical and forecasted Restless Legs Syndrome market is included in the report, covering drug outreach in the 7MM countries.
Restless Legs Syndrome Disease: Overview and In-depth Understanding
Restless legs syndrome (RLS), also called Willis-Ekbom Disease, causes unpleasant or uncomfortable sensations in the legs and an irresistible urge to move them. Symptoms commonly occur in the late afternoon or evening hours, and are often most severe at night when a person is resting, such as sitting or lying in bed. They also may occur when someone is inactive and sitting for extended periods (for example, when taking a trip by plane or watching a movie).
Request for free sample copy @ https://www.delveinsight.com/sample-request/restless-legs-syndrome-market
Restless Legs Syndrome Market: By Regions
The United States
EU5 (Germany, France, Italy, Spain, and the United Kingdom)
Japan
Restless Legs Syndrome Key Players
GlaxoSmithKline
Boehringer Ingelheim
American Regent
Bioprojet Pharma
And many others
Restless Legs Syndrome Drugs
Enacarbil (Horizant)
Pramipexole (Mirapex)
Injectafer
BPI 4979
And many others
Restless Legs Syndrome Symptoms
Since symptoms can increase in severity during the night, it could become difficult to fall asleep or return to sleep after waking up. Moving the legs or walking typically relieves the discomfort but the sensations often recur once the movement stops. RLS is classified as a sleep disorder since the symptoms are triggered by resting and attempting to sleep, and as a movement disorder, since people are forced to move their legs in order to relieve symptoms. It is, however, best characterized as a neurological sensory disorder with symptoms that are produced from within the brain itself.
Restless Legs Syndrome Causes
RLS is one of several disorders that can cause exhaustion and daytime sleepiness, which can strongly affect mood, concentration, job and school performance, and personal relationships. Many people with RLS report they are often unable to concentrate, have impaired memory, or fail to accomplish daily tasks. Untreated moderate to severe RLS can lead to about a 20 percent decrease in work productivity and can contribute to depression and anxiety. It also can make traveling difficult.
Restless Legs Syndrome Treatment
RLS can be treated, with care directed toward relieving symptoms. Moving the affected limb(s) may provide temporary relief. Sometimes RLS symptoms can be controlled by finding and treating an associated medical condition, such as peripheral neuropathy, diabetes, or iron deficiency anemia.
Restless Legs Syndrome Diagnosis
A diagnosis of RLS does not indicate the onset of another neurological disease, such as Parkinson's disease. In addition, some individuals have remissions—periods in which symptoms decrease or disappear for days, weeks, months, or years—although symptoms often eventually reappear. If RLS symptoms are mild, do not produce significant daytime discomfort, or do not affect an individual's ability to fall asleep, the condition does not have to be treated.
Restless Legs Syndrome Market Report
In most cases, the cause of RLS is unknown (called primary RLS). However, RLS has a genetic component and can be found in families where the onset of symptoms is before age 40. Specific gene variants have been associated with RLS. Restless legs syndrome (RLS) is known to occur secondary to various medical conditions such as iron deficiency, pregnancy, end-stage renal disease, and neuropathy. Sleep deprivation and other sleep conditions like sleep apnea also may aggravate or trigger symptoms in some people. Reducing or completely eliminating these factors may relieve symptoms.
Restless Legs Syndrome Treatment Market
Treatment of restless legs syndrome depends on the intensity of the symptoms. Treatment should be considered if quality of life is affected by insomnia and excessive daytime drowsiness. In cases of RLS due to ongoing medical disorders, specific treatment is also necessary.
Because making certain adjustments in lifestyle may help to alleviate RLS symptoms, physicians may recommend that patients follow a regular sleep routine, regularly engage in moderate exercise, yet avoid excessive exercise that may actually serve to aggravate symptoms. Physicians may also stress that individuals with RLS should refrain from using caffeine, and, if possible, using certain antidepressant, antinausea, or other medications that may aggravate RLS symptoms.
Restless Legs Syndrome Market Insights
RLS is generally a lifelong condition for which there is no cure. However, current therapies can control the disorder, minimize symptoms, and increase periods of restful sleep. Symptoms may gradually worsen with age, although the decline may be somewhat faster for individuals who also suffer from an associated medical condition.
Request for free sample copy @ https://www.delveinsight.com/sample-request/restless-legs-syndrome-market
List of Table of content
1. Key Insights
2. Executive Summary of Restless Legs Syndrome
3. Competitive Intelligence Analysis for Restless Legs Syndrome
4. Restless Legs Syndrome: Market Overview at a Glance
5. Restless Legs Syndrome: Disease Background and Overview
6. Patient Journey
7. Restless Legs Syndrome Epidemiology and Patient Population
8. Treatment Algorithm, Current Treatment, and Medical Practices
9. Unmet Needs
10. Key Endpoints of Restless Legs Syndrome Treatment
11. Marketed Products
12. Emerging Therapies
13. Restless Legs Syndrome: Seven Major Market Analysis
14. Attribute analysis
15. 7MM: Market Outlook
16. Access and Reimbursement Overview of Restless Legs Syndrome
17. KOL Views
18. Market Drivers
19. Market Barriers
20. Appendix
21. DelveInsight Capabilities
22. Disclaimer
23. About DelveInsight
Restless Legs Syndrome Market Research Methodology
The objective of updating DelveInsight coverage is to ensure that it represents the most up-to-date vision of the industry possible. The DelveInsight is a fully integrated solution for comprehensive intelligence on various pharmaceutical products, both in the market and in the pipeline, across the globe.
Related Reports
Restless Legs Syndrome Epidemiology
Restless Legs Syndrome Pipeline
About DelveInsight
DelveInsight is a Business Consultant company and serves as a Knowledge partner across the value chain of the Pharmaceutical Industry. With the use of proprietary databases and analytical models, DelveInsight provides cutting-edge market and pipeline analysis and API intelligence across all therapy areas to the Pharma and biotech sector, helping clients to quantify market events and evaluate their impact on the valuation of products, portfolios, and companies.
Contact us
Shruti Thakur
info@delveinsight.com
+91-9650213330
Media Contact
Company Name: DelveInsight Business Research LLP
Contact Person: Yash Bhardwaj
Email: Send Email
Phone: +919650213330
Address:304 S. Jones Blvd #2432
City: Las Vegas
State: NV
Country: United States
Website: https://www.delveinsight.com/