Imperfect People – A New Gay Drama – Premiering on YouTube
The gay series drama "Imperfect People" will be released May 20, 2021 at www.imperfectpeopleseries.com. The story follows a young man in Los Angeles struggling with a decision to accept a marriage proposal from the current love of his life. Things get worse when his ex-boyfriend comes back into his life after two years.

Video Link: https://www.youtube.com/embed/H1-jNheF4wI
The first season of the series drama, directed by Juan Sebastian Valencia, will have 9 episodes, each two minutes long. Ian S. Peterson stars as Eli, a young, naive gay man caught in a love triangle with Mark (played by Quentin Boyer) and Benny (played by Jonathan Christian Fernandez).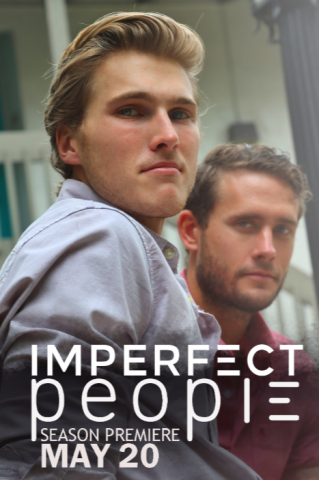 "I'm trying to add to the conversation of more LGBTQ+ content for my community. I wanted to share a story about love – not the struggles of a gay man, but the struggles of a man in love. This is a love story that just happens to be about a man who is gay." Says Juan Sebastián, the director of the series. Sebastián is a Colombian filmmaker who has already released a feature film in Colombia and has four internationally published books.
"This is a love story and a self discovery story. Eli is like anyone either in my country or the United States. I related to his emotional journey and that interested me to tell it through the series," concludes Juan Sebastián.
The first season of imperfect people was shot in Los Angeles with original music by Nicolás Prada and production design by Sabrina Suarez. The team has been working remotely from Los Angeles, Finland, and Argentina and is currently working on the second season.
"I've always been a fan of dramas and romantic comedies and have been eager to see more LGBTQ+ versions of those stories. I think it's key to cover other stories from this community so that the public knows our tales – though important – are not limited to coming out, acceptance or other topics traditionally covered by Hollywood," says producer Jonathan Christian Fernandez. "This is just the beginning and I'm excited to further explore the untold stories of our colorful community".
Produced by Colombian creative studio STORY FILM HOUSE in coproduction with USA production company ADA, LOOK AFTER HIM. Imperfect people will air Mondays and Thursdays at 7:00pm (PT) on www.imperfectpeopleseries.com
Media Contact
Company Name: Story Film House
Contact Person: Juan Sebastián Valencia
Email: Send Email
Country: United States
Website: https://www.imperfectpeopleseries.com/