Feed Amino Acids Market: Drivers, Restraints, Opportunities, and Challenges
The feed amino acids market is estimated to be valued at USD 5.37 Billion in 2017. It is projected to reach a value of USD 6.66 Billion by 2022, at a CAGR of 4.4% from 2017.
The report "Feed Amino Acids Market by Type (Lysine, Methionine, Threonine, Tryptophan), Livestock (Ruminants, Swine, Poultry, Aquaculture), Form (Dry, Liquid), and Region (North America, Europe, Asia Pacific, South America and RoW) – Forecast to 2022″, The feed amino acids market is estimated to be valued at USD 5.37 Billion in 2017. It is projected to reach a value of USD 6.66 Billion by 2022, at a CAGR of 4.4% from 2017. The market is driven by factors such as growth in consumption of animal-based products, growth in feed production, standardization of meat products owing to disease outbreaks, implementation of innovative animal husbandry practices to improve meat quality, increase in support from governments and environmentalists, and multiple benefits associated with amino acid supplementation in feed. Additionally, growth in awareness among consumers about BSE and increase in demand for nutritional supplements for monogastric animals provides feed amino acid producers and distributors with lucrative opportunities.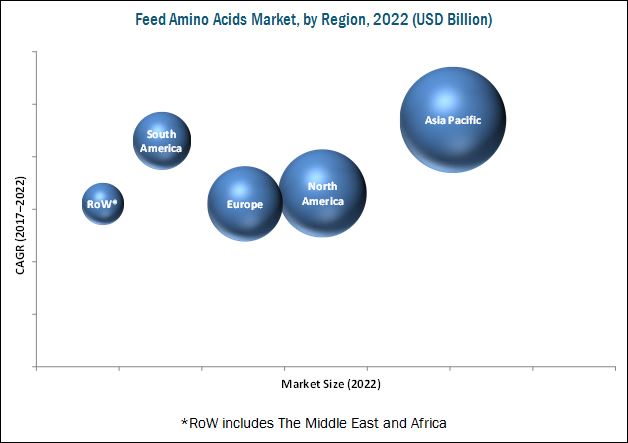 Download PDF Brochure: https://www.marketsandmarkets.com/pdfdownloadNew.asp?id=116585197
Implementation of innovative animal husbandry practices to improve meat quality
With the increase in per capita income, the standard of living has improved. Increase in health awareness has resulted in the demand for quality meat. Recent disease outbreaks in livestock have led to the use of feed amino acids to improve quality. Meat quality is defined by the compositional quality (lean-to-fat ratio) and palatability (appearance, juiciness, tenderness, and flavor). Meat and dairy processors are required to follow the rules related to labeling and packaging of meat & dairy products due to the increase in concerns about E. coli and Salmonella infections. Meat such as lamb and mutton are graded by two USDA grading systems—quality and yield. The purpose of these grading systems is to aid in ranking lambs both as live animals and meat products. These grading systems are useful in pricing as well as marketing.
Government monitoring agencies such as the US Food and Drug Administration (FDA) and European Food Safety Authority (EFSA) have imposed rules regarding the quality of food to be delivered to consumers. Meat composition, fat content, color, flavor, and protein content are some of the attributes that define the quality of meat. These qualities are obtained through the use of feed additives, which include amino acids.
Hence, implementation of new animal husbandry techniques could lead to the production mandate and consumption of better quality meat. This, in turn, is expected to drive the market for feed amino acids.
Alternative protein sources
There are several feed sources that can provide amino acids such as corn grain, corn by-products, and dried distillers' grains. Soybean meal is usually the most economical source of high-quality protein. It contains less methionine as compared to the needs of a dairy cow for optimal production. Seaweed is a marine alga found in coastal regions and is a renewable natural resource of protein for animal feed. It is rich in minerals, vitamins, and fatty acids, which improve feed quality, thereby decreasing the cost. Sunflower meal is produced by extracting oil from its flower seed. It contains high fiber content and is therefore used in limited quantities.
The high-protein content and cost-efficiency of these alternative sources could act as a restraint for the growth of the amino acids market.
Increase in demand for nutritional supplements for monogastric animals
As monogastric animals cannot synthesize vitamin B complex compounds within their body, when compared to ruminants, there is a considerable demand for vitamin and mineral supplements in this sector. Key players are establishing a market presence in the poultry and swine sectors due to the organized development of these sectors. These sectors are witnessing better growth in the developing markets of the Asia Pacific and South American regions.
Globally, Asia ranked first in feed production in 2015, according to the USDA. China is a global leader in the compound feed market that witnessed an annual volume production of over 187 million tons in the year 2016, according to the 2017 Alltech Global Feed Survey. Due to the increase in demand for compound feed in these regions, there has been a considerable demand for additives in these developing markets, which, in turn, acts as an opportunity for the feed amino acids market.
Speak to Analyst: https://www.marketsandmarkets.com/speaktoanalystNew.asp?id=116585197
The Asia Pacific region is estimated to dominate the feed amino acids market in 2017.
The Asia Pacific region is projected to be the fastest-growing market for feed amino acids between 2017 and 2022. The major driving factors for the market in this region are the continuous modernization of animal production techniques and the growing awareness among consumers regarding the impact of quality feed provided to the livestock on animal-based products such as meat and dairy products.
This report includes the study of marketing and development strategies, along with the product portfolios of leading companies. It includes the profiles of leading companies such as ADM (US), Sumitomo (Japan), Evonik (Germany), CJ CheilJedang (South Korea), Ajinomoto Co., Inc. (Tokyo), Adisseo (China), Phibro (US), Meihua Holdings (China), Kemin (US), Novus (US), Global Bio-Chem (Hong Kong), and Sunrise Nutrachem (China).
Media Contact
Company Name: MarketsandMarkets
Contact Person: Mr. Shelly Singh
Email: Send Email
Phone: 1-888-600-6441
Address:630 Dundee Road Suite 430
City: Northbrook
State: IL
Country: United States
Website: https://www.marketsandmarkets.com/Market-Reports/feed-amino-acids-market-116585197.html